Interview with Hayley Sales: from the new TV series Lucky Hank to working with Sharon Stone
Tv / Interview

- 27 March 2023
Hayley Sales is singer to actress: she is in the TV series Lucky Hank, with Bob Odenkirk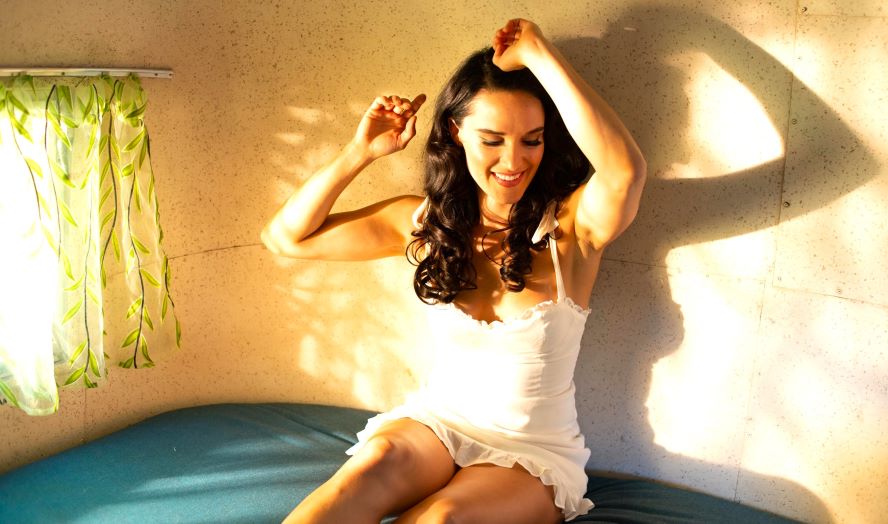 Hayley Sales is an American-Canadian singer, songwriter and actress. As a singer she has toured with and opened for Rufus Wainwright, Gavin DeGraw, Pink Martini, Jason Mraz and a host of other top talent. She can currently be seen in the Tubi TV streaming action drama Corrective Measures and the Amazon romantic comedy, Just For The Summer.
Your new song Never Before is co-written with Sharon Stone. How did this collaboration come about?
An incredible friend, one of the angels of my life, brought my music to Sharon. The next thing I knew, I was walking in front of Canters Deli in Los Angeles when the phone rang. I answered, mid bite into my sandwich, "Hi…It's Sharon Stone." I almost tripped into the middle of the road. (Around the time this happened, I was rattled by the insecurity of having just lost my record label that year, a label I had been with since I was a teenager.) When I showed up at her house, I was a handful of nerves and excitement. The second she walked into the room, all that went away. She was so warm and gracious, so absolutely unpretentious and open. We talked for quite a while about absolutely anything and everything. We both resonated with the idea of unabashed romance. There's such a courage required in letting yourself be vulnerable and letting yourself be truly in love. We decided to dig in and see where that thread took us. Sharon sat down on the couch with notebook in hand and I slipped off my flip flops and settled in front of the gorgeous grand piano in her living room. Never Before just began to unfold between us. It was really magical. Very quickly, I could sense we were onto something special. I was blown away by Sharon's ability to weave words around a melody. The lyrics and music somehow seemed to hum at the same frequency. I can't quite describe it and it definitely doesn't always happen with co-writes, but it did with us.
How was the production of the single carried out?
Once the words and the music came together, we tried to stay out of the way when it came to the actual production. I laid down the piano and vocal live with my bassist, Darren Parris. We tried to keep the performance as real and intimate as possible. My co-producer and dad, Richard Sales added some glorious, subtle flourishes on electric guitar, but otherwise I just felt like more layers of instruments took away from the beauty of the tune. All the while, I kept hearing this luscious presence of strings and how they could meld around the melody. But I had absolutely no idea how to make it happen…until I met Carl Marsh, a genius string arranger with an arsenal of Cupid's romance. I shared the tune with him and attempted to describe what I was hearing, albeit terribly. He came back with the arrangement later that week. It was even better than I could ever have imagined. As the orchestra performed his gorgeous arrangement, I couldn't help but cry as I watched from behind the mixing board. It was truly one of the most memorable moments in my life. After we finished all the recording, I handed the tune over to my mixer, Michael Brauer, who added his famous magical touch.
Never Before is romantic, with an almost classical style. How did you choose this particular genre?
I know it seems like quite a departure from the sun kissed music I put out as a teenager, but actually jazz, classic pop, and the American songbook were my earliest influences as a singer and songwriter. Around the age of five, a friend of mine introduced me to Judy Garland and it changed my life. Her voice left me breathless. The melodies swept every little romantic notion of my incredibly romantic body into a whirlwind. I spent hours at the piano, day and night playing all the old classics while writing my own. There is a romance, an honesty and passion to the music of that era.
For years I dabbled with doing what I thought I should do, creating music that I thought would get me where I wanted to go. As a teen I was told over and over again that my sound wasn't relevant, my songs were too passionate, too emotive. Being incredibly driven and incredibly insecure, I chose to focus on songs I believed people wanted to hear. Then I lost it all. Somehow all that loss, all those setbacks and failures, stripped away the minutiae. There was nothing to lose. I couldn't give up and I knew I had to make music, but I had to make the music that I needed to make, the music that was pressing out the edges of my heart, begging to get out. I was terrified the entire time we were producing the record. The songs were so exposing and stripped down. At times my voice teetered on the edge of tears. I definitely battled my perfectionism and doubt at every turn; a battle I very nearly lost over and over again. My Dad and co-producer literally taped a piece of paper to the computer screen in the studio that said "No, it doesn't suck you idiot." I guess I'd asked him a couple times. But deep down, for the first time in my life, I knew I was headed in the right direction because it wasn't comfortable. I had to sing the songs most important to me. I had to sing to get it out. I had to keep it vulnerable, raw, and honest. I had to make the music that moved me. And I hoped, in being as transparent as possible, someone out there would listen and feel understood and comforted. Never Before is one of those tunes. I have to sing because it's so much a part of me.
The jazz genre recently has been sidelined by music majors. What are your thoughts on this?
You know, it's sad that the genre of jazz and classic pop has been shoved into the easy listening corner. Jazz is everything but elevator music to me. It is raw. It is brutal. It is sincere. It is all heart. Above all, it's romantic. I feel reverberations of its renaissance and am excited to be a part of it. The album I just finished is filled with songs like Never Before. It's a genre that moves me above and beyond all others.
Can you tell us about your leading role in the Amazon romantic comedy Just For The Summer?
I grew up on romantic comedies. All of them from The Princess Bride to His Girl Friday. So being asked to carry the lead in a romantic comedy was a dream come true. Brant Dougherty and I became fast friends and had blast filming together. We filmed the entire movie in three weeks in Vancouver, BC. The story follows my character, Pen. She is a struggling young writer who returns to her hometown over the summer with intentions to finish her novel. As fate would have it, her high school sweetheart just so happens to be back in town and what follows is a hilarious series of comedic mishaps and serendipitous moments.
You starred in the film Corrective Measures with Bruce Willis. What was this film experience like for you?
Working on Corrective Measures was one of the most inspiring acting experiences I've ever had. The director, the crew, the cast…everything about it was amazing. We were allowe, as actors to experiment, improve and let the story take on a life of its own which is truly a dream come true. You forget you're being filmed and the story jumps off the page and into your heart.
And Bruce Willis? He was truly one of the kindest and warmest people I've ever worked with. I of course, was nervous on our first day of filming together. He stopped what he was doing when I entered the sound stage, walked up to me and introduced himself and from that moment on, he made a point of making me feel at ease. And then, of course, there's his talent, his genius. Being allowed to act alongside him taught me more than a decade of acting classes. My acting coach once told me that the key to truly enveloping the character you are asked to become, is to put the spotlight on the person in front of you. Study the movements of their eyes. Watch the way their hands brush the fleck of dust off their shirt. Become so fascinated with every little thing about them that you are entirely present and removed from your own self-awareness. I mention this because with Bruce, it was so easy to lose myself in the scene. He was so real. So magnetic. I'm truly heartbroken to hear about his health. He's one of the greats and I will treasure everything he taught me for the rest of my career.
You will be seen in the series Lucky Hank with Bob Odenkirk. What is this series about?
Lucky Hank is a comedy-drama adapted from Richard Russo's 1997 novel, Straight Man. Billed as a "midlife crisis tale" about a struggling Pennsylvania college and its anarchistic English department chairman, William Henry Devereaux Jr. (Odenkirk), Lucky Hank is a show that really takes the time to dive into the lives of each character, into their struggles and internal battles, but always with a humorous undertone. My character, Missy Strogatz, is drawn into the faculties inner circle through a hilarious series of events. I honestly couldn't stop laughing on set. They'd always leave the cameras rolling after the scenes would end and all I could do was try not to smile at the comedic geniuses around me. Every single person involved was hilarious and genuine. I feel so lucky to be a part of it. And Bob Odenkirk? What can I say? They say don't meet your heroes but if your hero is Bob Odenkirk…Meet him. He's so natural. So unpretentious. Such an incredible human. I'm still pinching myself over the fact that I'm involved in such a profound project.
Instagram: @hayleysales
Photo credit to George Holz:
© All right Reserved
---
---