Interview with opera singer Cristina Fontanelli: 'I sing the Bay of Naples'
Daily / Interview

- 20 March 2023
Cristina Fontanelli's upcoming concerts range from Broadway to Palm Beach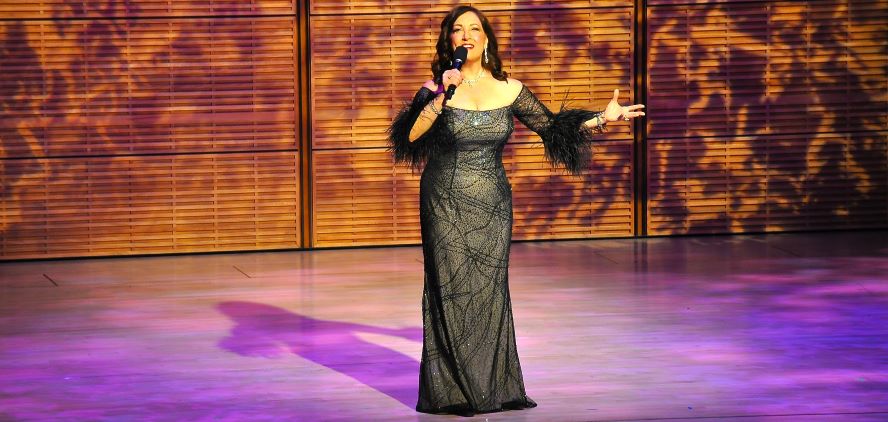 Cristina Fontanelli
is an ambassador of Italian musical roots to the world. She has sung with
Tony Bennett
,
Andrea Bocelli
, ranging from Giacomo Puccini's
Madame Butterfly
to Giuseppe Verdi's
La Traviata
.
In the upcoming concert in Palm Beach, you will sing Torna a surriento, Cor n'grato and O sole mio. How come you chose these songs?
One of my major goals as an artist of Italian descent is to preserve the great, traditional "Italian Songbook". These 3 songs are the "chestnuts" of our musical heritage. They are absolute audience favorites and, for whatever the reason, their melodic line remain unparalleled in the world's music "catalog". I always ask my audience: "Why are these songs so beautiful? Is it the sea? The mountains? The air? Grandma's cooking? – the answer is that they are Neapolitan, from one of the most beautiful places on the planet, the Bay of Naples.


What is your relationship with Italy?
My heritage is 100% Italian! I grew up in an Italian family and all that goes with that wonderful background. The close family ties, the happy times, the over-the-top personality types! Food, wine italian pasties! Meals that went on forever. I feel sorry for the kids today, that they don't have those joyful, close family dinners like in the old days. My singing and the concerts I produce and star in have the intention of making the audience feel that love, that closeness, that joy – if only for that moment in time – to create an aura that lasts and that they can bring with them when they leave the theater and, hopefully, find inspiration to create that joy for themselves and their families.


You sang with Andrea Bocelli. Can you tell us about the experience?
What can you say about being next to an angel from heaven? That voice, that persona, the joy he brings, the values he represents, his beautiful children and wife. Andrea represents everything that we think is best in our Italian culture and in the world. I am very grateful to know him. I also had the privilege of meeting his mother, Mamma Bocelli, when I was PBS-TV host for his iconic concert in Central Park. We had a beautiful chat in Italian about how proud she was of her son, how hard she worked to teach him the important things in life and encourage him to follow his passion for music. A special memory and privilege that I will never forget.


How do you prepare before a concert?
Thank goodness I now possess a very solid vocal technique. I pretty much have it down to a science and have my voice in shape even when I "roll out of bed"! I don't baby myself too much. It is not my personality. However, certain rituals/things are requirements. Hotels that don't allow fresh air into the room are killers for my throat and I need to stay vigilant to drink plenty of water, not eat too close to when I need to sing (about 3-4 hours beforehand is perfect) and not eat food that is hard to digest or acidic. That means I have to eat my pasta with marinara sauce after the concert!


How was the experience with Tony Bennett?
There are no proper words about sharing the bill with this icon, Tony Bennett. A "Singers Singer" Frank Sinatra, dubbed Tony. I have had the privilege of singing on the bill with Tony 3x. In my early career at the Italian Festival at Hunter Mountain in the Catskills in NYS. I stayed in the same hotel. I was young, shy, naïve and scared to speak to him! But I definitely could SING! That I wasn't scared to do. I then appeared with Tony at the Park Plaza Hotel in Boston. I was on the bill with Tony, Red Buttons (the Academy-award winning comedian/actor) and Joan Rivers. I was pretty much the same. Young and shy – but definitely held my own along with these entertainment icons, because at the private dinner afterwards guests were pointing at me and shouting "There's the singer!" I guess they liked my voice, but I wanted to hide! LOL! My last appearance with Tony was singing at Mickey Rooney's 90th birthday party at Feinsteins at the Regency Hotel. I wound up in a book published by Simon & Schuster: The Life and Times of Mickey Rooney . So many celebs showed up for Mickey that night, including our former President Donald Trump who even helped to fill the room. He loved Mickey so much! It is thrilling to be part of an historical book documenting one of Hollywood's greatest stars!


Did you watch the recent Sanremo Festival?
Oh dear! I REALLY wanted to. But my schedule is so busy that I had to be elsewhere and I can't even recall where that was! My schedule is so packed that it is difficult for me to keep up with what is going on in the music/entertainment industry. I always have good intentions but the next project comes up, my next appearance or PR event, and the time has gone by and I didn't even have it DVR'd! Thanks for reminding me! I still want to watch it!


What are your upcoming projects?
Lots and lots of concerts and appearances that will culminate with my 20th-annual charitable Italian extravaganza at Carnegie Hall "Christmas in Italy®". In the summer: Opera & Broadway of the Hamptons, Fall '23 at NYC's iconic top Broadway supper club 54 BELOW, a trip to Tuscany with my fans and performing a public concert in Florence and much more. I am focusing now (Winter 2023) on my upcoming concert at Palm Beach Atlantic University (Springtime in Italy with Cristina Fontanelli, March 26). I have enjoyed great success in the Palm Beach area and I am looking forward to returning to my "musical roots" there. I started out as a young opera/Italian singer on the FL circuit. One day I walked into the room to sing for Il Circolo: The Italian Society of the Palm Beaches. I performed beautiful Italian songs for them. There was a very special woman, Renee Silvester, who was in the audience. She became my "angel" patron, underwriting my appearances at their Breakers gala dinners which allowed me the funds to study with NYC's top operatic vocal instructor, Ruth Falcon. Renee believed in me enough to open the doors for me at the Palm Beach Opera. She had clout as she was instrumental in starting the opera company. Her generosity paved the way for it to become one of the premiere opera companies in the country. I walked through those doors Renee helped to open for me and proved myself. When Maestro Anton Guadagno, a very distinguished opera conductor who conducted Pavarotti and Placido Domingo, he knew that I could handle the stage and the repertoire. He cast me in the coveted opening night slot of leading soprano star as Nedda in I Pagliacci. I went on to star as the Merry Widow and as Musetta in La Boheme. The performances took place at the magnificent Kravis Center in West Palm Beach. I am delighted to be returning to the area and singing for my beloved fans and friends there.

© All right Reserved
---
---