Interview with the director of the film Lumina, Gino McKoy: Morocco has film crews on par with Los Angeles'
Cinema / Interview

- 21 June 2021 05:00
Lumina is the sci-fi film being produced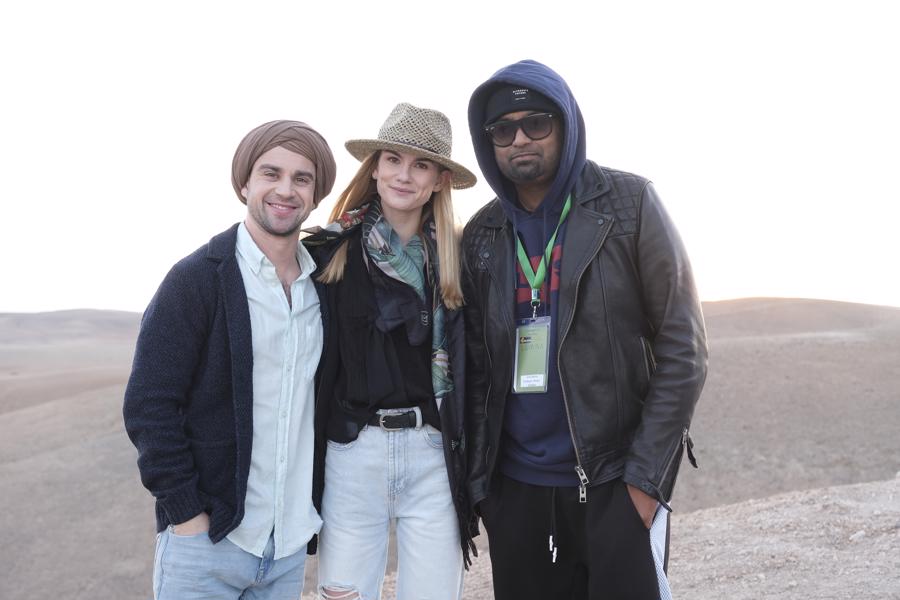 Gino Justin Hudson McKoy is a singer-songwriter, film director, film producer. Lumina is his new movie. The story follows a young college graduate whose girlfriend vanishes in a blinding flash of light. Determined to find her at any cost, he is drawn into a dangerous, otherworldly web of distortions as he seeks to discover the truth behind her disappearance.
Limina is a sci-fi film that you worked on as a director. What are you like as a director?
Thanks for having me. As a Director, I'm patient, creative and methodical. But I love in depth interaction with my actors and with the crew. You need that communication and cohesiveness on set. A lot of my fellow filmmakers think I'm very laid back but in reality, I'm not. I'm a very aggressive director in regard to what I want and the overall execution and vision.
You filmed in Morocco. How did you come to make this choice?
At first it was Malta and Tunisia. Morocco, I had scouted a year ago and I ended up choosing Morocco because it had the deserts and also the sound stages. With a variety of locations and Morocco has film crews on par with Los Angeles. So, it made sense logistically and historically since they have a rich history in filmmaking.
What was it like to shoot in the desert of Agafay, in the Atlas Mountains and in the depths of Ouarzazate?
Wow, amazing to be out there shooting and its some of the greatest deserts and mountains in Africa, its magical. Being out there at night as well is peaceful for me. But it was very tough also because of the extreme weather. You're in extreme cold at night and heat during the day. Some days in the desert and mountains we were in winter jackets. Growing up in Toronto, prepared me for the cold weather. It's not foreign to me but I loved it, you have to have the mental and physical stamina to shoot in those extremes and locations.
What were the difficulties during filming?
Outside of the extreme weather conditions and very long days, there were a few. I had minimal time to block and also had minimal time to execute all of the shots I needed for the film. I cut a lot in my head and I'm very visual so I'm visualizing shots before they happen. So, it made it easier for me which enabled me to make my days. The shooting schedule really needed 40 plus days, but I did it in around 28 or 29 days. Which is fast and also unlikely with the amount of VFX, SFX, action sequences etc. we had infused into the script.
What was it like working with Eric Roberts, Eleanor Williams, Ken Lawson?
It was an honor and pleasure to work with a living legend like Eric. He's talented and very intelligent and has an unrivaled amount of experience. I learned a lot while working with him. We bonded and we spoke about doing more movies together, which I'm excited about. We both like westerns, so I think a Leone style spaghetti western is what I would love to do with Eric next. So many ideas and so little time. Ken aka "Georgey" is a brother, we became friends, and we went out for dinner when I was in LA. He's talented and tons of people will recognize that talent when Lumina comes out. Eleanor is a sweetheart and braved the cold and elements to get that take, she will also be a breakout talent along with the rest of the cast. I was blessed with that.
How do you interact with the actors, do you give them guidelines to follow, or do you let them improvise?
I interact as much as possible with my actors. I also prepare them as much as I can before we start shooting. The more time I spend with them the better. I love improv and I also like moments where we stick to the script because it's important for the story arc and character arc. I have also had to change things at the last moment because they didn't work, or we needed it executed differently. Your script is your base and yes, it's a guide but things can change and you can always improve while you're shooting, so I'm not rigid in that sense.

You are also a musician. What is a song that you are most fond of?
Good question, I would say "When the World Began". It's a song about God creating the world and the problems humans have created for this world because of their sins, it has a vibe something like "Like a Prayer" and "Man in the Mirror".

When will the film be released?
Hoping for fall or winter this year. We are still in those negotiations right now.
© All right Reserved
---
---