White Men Can't Jump movie review
Cinema / Reviews

- 20 May 2023
White Men Can't Jump is the streaming movie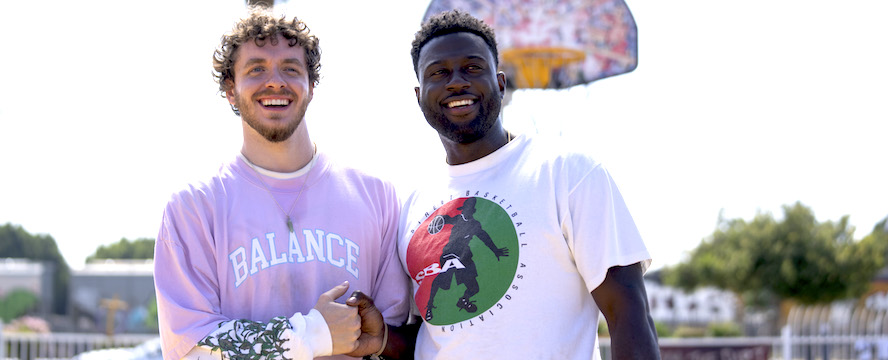 In White Men Can't Jump, Kamal (Sinqua Walls) is a former basketball promise who has thrown away his career. Jeremy (Jack Harlow) is a former outfielder whose rise has been stunted by injuries.
The plot of the movie White Men Can't Jump
If Kamal's relations with his wife Benji (Laura Harrier) are complicated by financial straits, Jeremy's relations with Tatiana (Laura Harrier) are no better. Kamal is a courier, and after he destroys the phone of a customer who wanted to take a selfie with him, he has his shifts at work cut short. The practice of financial difficulties moving stocks is also established in this movie, which proceeds by fairly overused stylistic devices.
When the possibility of playing in a rigged game emerges, Kamal convinces Jeremy to participate: he is reluctant, but given the $25,000 prize pool-he is also in dire straits-he agrees. The diatribes between the two, including racial ones - Kamal is black - are reconciled in the challenge: "You're not a criminal, even if you're dark brown," Jeremy ironizes.
The obviousness of the movie White Men Can't Jump
As the two prepare for the match, their friendship, which crosses the barriers of skin color, also grows. Even this line is drawn too clearly to lead to empathy: everything is already seen and known. If the movie of which it is a remake, White Men Can't Jump (1992) modified the stereotype of the sports comedy, so much so that it was a favorite of Stanley Kubrick, that verve is lost here. Everyday issues outclass ideological ones, and so the two leads seem like two teenagers struggling with muscles to show. There is no evolution in their relationship, apart from the workouts to be performed at the seashore.
The cast of the movie White Men Can't Jump
The presence of Benji (Lance Reddick), Kamal's father and a former coach who suffers from multiple sclerosis, infuses some movie humanity, but fails to elevate a sloppy script. The direction by Calmatico - making his feature debut after directing video clips - dampens any afflatus with an irritating pedantry, so obvious is the need to make every moment as linear as possible. The acting of the two leads is also listless, and uncommon to any camaraderie. The Los Angeles shots remain to be admired, but they are not enough for the movie. The certainty is that in the end, even White Men does not want to jump.
The release date of the movie White Men Can't Jump
White Men Can't Jump is streaming on Disney+ from May 19, 2023.
© All right Reserved
---
---