Film Crater: cast interview, Mckenna Grace and Isaiah Russell-Bailey
Cinema / Interview

- 15 May 2023
Crater is the streaming movie.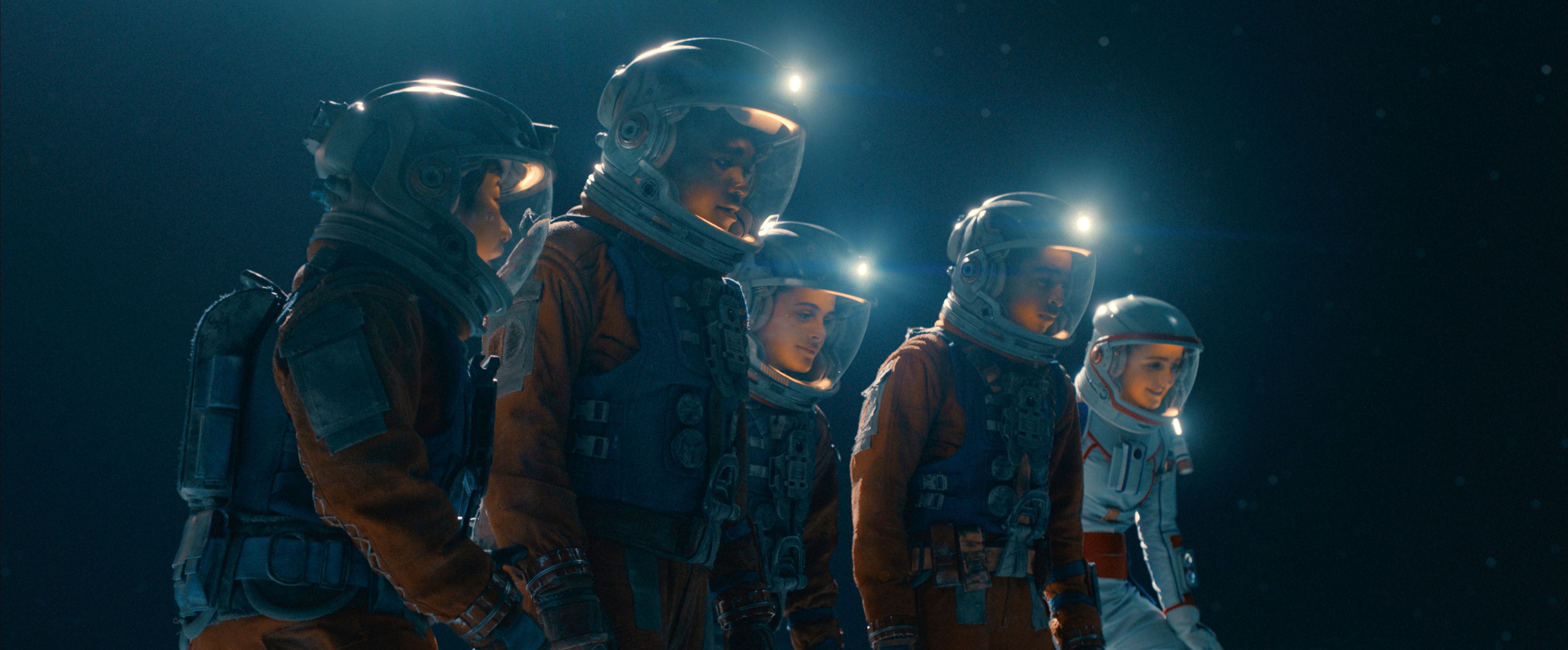 Crater is the streaming movie. Caleb Channing (Isaiah Russell-Bailey), was raised on a lunar mining colony and is about to be permanently relocated to an idyllic faraway planet following the death of his father (Scott Mescudi). Before leaving, to fulfill his dad's last wish, he and his three best friends, Dylan (Billy Barratt), Borney (Orson Hong) and Marcus (Thomas Boyce), and a new arrival from Earth, Addison (Mckenna Grace), hijack a rover for one final adventure on a journey to explore a mysterious crater.
Have you compared yourselves with the NASA team?
Isaiah Russell-Bailey. Yeah, and not only that. We did, all together, six weeks of prep to get this spacesuit fittings and the harness stunt training as well. Like, for four of those weeks, we worked with the team at Legacy to help build our spacesuits. And so make sure they looked like real, functional spacesuits and as realistic as they possibly can look. Also, for the last two weeks, we worked with Dave McCumber and his stunt team to help us, you know, look like real astronauts and perform like real astronauts in low gravity. And most of that was actually harness work. And they made sure our spacewalk looked as realistic as possible. And I feel like we've accomplished that.
Can you tell us about your role?
Mckenna Grace. I play Addison. She joins the road trip a little bit late. She has the codes for the rover, so you know, that's my in. But I feel like she's kind of pretty smart. I think that she's looking out for the guys in a way. They make a lot of decisions with things on the moon [laugh], and she has a lot of math and logic sometimes, which I think is very helpful.
Can you tell us about any incidents that occurred during the filming?
Thomas Boyce. See, the seats in the rovers weren't very comfortable unfortunately. Like, there wasn't, you know, a lot of padding. I would said, like, maybe some, like, reclined chairs. You know, seating in the back 'cause, like, Marcus and Borney, they weren't the ones, like, driving. We're up there with Caleb and everyone. So, we kinda sat in the back and those seats were not very comfortable, I'd say.
Your character is Caleb.
Isaiah Russell-Bailey. I feel like one of the bigger challenges in playing Caleb was putting myself in the mindset of someone who has lost a parent or a very close family member. Fortunately, I haven't had to deal with a major loss like that. So, I had to do a lot of work to prepare for that aspect of my character. You know, I got advice from family members and friends who have experienced that pain and grief because I know there are a lot of levels and layers to grieving someone so close to you.
You play Dylan Thomas. Are there affinities with your character?
Billy Barratt. We've got some similarities. We've got some differences. But I think the similarities are [makes noise] that he cares for the people he loves, and he'll do anything to make sure that they're okay and happy and treated well. But the differences are that I don't think I'm as cool as he is because I think that's probably a character that he tries to portray and be that sort of guy in the group. But yeah, that was something I had to work toward.
What did you feel when you read the script?
Mckenna Grace. Reading the script, I mean, of course, it's really cool to be able to do something on the moon. But I think that all of the characters had such a unique bond. And I think that this film ends in a way that surprises me. And it felt like it had a lot of heart in the script. And I think that it's quite hard to take a film that is a bunch of kids going on a road trip on the moon and make it feel grounded. And make some of the scenes and dialogue feel quite real. But I think that our director, Mr. Kyle, did a really good job of that. And I mean, reading the script, I don't cry during movies or scripts very easily. But this one, I don't know. The script just felt really special.
© All right Reserved
---
---