Transformers Rise of the Beasts review
Cinema / Reviews

- 06 June 2023
Transformers: Rise of the Beasts is the movie in theaters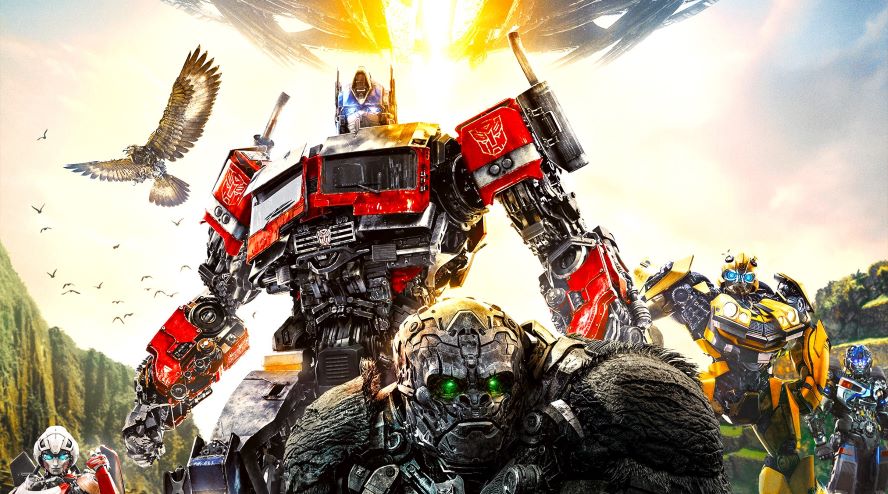 If the engine is still kicking, ride it until the wheels fall off. Being one of the highest grossing film franchises of all time, the Transformers movie series is doing just that. Transformers: Rise of the Beasts marks the seventh installment on the big screen, taking the story back to the mid-90's, set before all the Michael Bay directed projects. With Bay sitting this one out, Steven Caple Jr. (Creed II) takes the helm as director.
The plot of Transformers: Rise of the Beasts - Transformers - The Awakening.
Rise of the Beasts wastes no time getting to the action. No Mark Wahlberg this go-round. Michelle Yeoh, Pete Davidson, Ron Perlman, and others voice a slew of new characters. This chapter also introduces new types of Transformers, The Maximals, Terrorcrons, and Predacrons. It begins with Primal and the Maximals fighting to protect the precious Transwarp Key from the Terrorcrons, led by the villainous Unicron, drunk on planetary destruction.
We are flashed to a 90's New York City. Detailed by sounds from Hip-Hop legends like Wu-Tang and Nas, with Notorious B.I.G. posters and illegal cable black-boxes, it's hard for any viewer over thirty to not be a hostage of nostalgia. Here we meet two new protagonists who can't shift gears into weapon-touting vehicles. Noah Diaz (Anthony Ramos, Hamilton), a young man with a military background trying to help his family, gets roped in to the mission after an encounter with fresh-faced Autobot, Mirage. Elena Wallace (Dominique Fishback, Swarm, Judas and the Black Messiah), is a library employee, deeply knowledgeable in ancient cultures and artifacts. Both characters hail from Brooklyn, and so do both actors in real life, leaving their enforced New York City style palpable.
The hostage of nostalgia
The story takes time to develop, feeling like it races ahead of itself. It finds it's pace at a showdown at the library where Elena is studying the Key. The interested parties converge and scramble for the coveted item. Optimus Prime and the Autobots seek the Transwarp Key to return to their home planet, while Unicron lusts for it to destroy Earth. The Maximals have used it to protect their home on Earth. Archeology, mysterious relics, Peruvian jungles. To quote Noah, "this is some Indiana Jones type $#!t". This element helps ground the story in a more tangible realm.
Upon their first encounter, Primal sadly sees an Optimus Prime worn down with guilt and defeat from his kind being trapped on Earth for years. He challenges Optimus' desperate plan to flee with the key, and instead band together to combat the greater evil. Classic themes of sacrifice and loyalty prop up the characters' motivations, as a monumental showdown culminates.
For a movie braced by CGI graphics, Caple Jr. manages to craft fresh fight scenes with attentive choreography that mirrors some live action films. Don't expect Tarantino-level dialogue, or Kubrick-esque shots. This flick isn't stirring up a buzz at Cannes. It's not the subject of afterparty conversation at Sundance. But that probably wasn't the aim. While some film buffs may discard it as another big-budget Hollywood rollout, core Transformers fans and Sci-Fi lovers know what they came for, and they get it with Rise of the Beasts.
© All right Reserved
---
---