CrimeCon in Orlando: From crime to new movies and TV shows, answers are sought
Daily / Focus

- 01 October 2023
CrimeCon was held in Orlando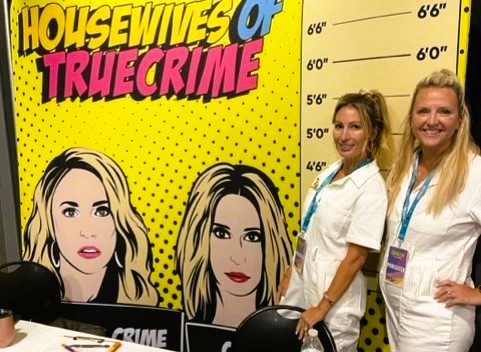 CrimeCon is an immersive three-day experience for true crime fans, creators, and leading industry professionals. Since its launch in 2017, CrimeCon has connected thousands of true crime enthusiasts with the mysteries, cases and issues that intrigue them. With a heavy focus on education, CrimeCon features speakers, panels, breakout sessions, hands-on experiences and more, allowing fans to completely delve into the world of true crime.

Podcasters gathered at CrimeCon Orlando to expose their traumatic losses due to crime and now their missions to tell their story in hopes it will reach enough people that might lead to answers.
How CrimeCon works
True to the mission within the name, many people come to CRIMECON realizing the conference is truly connecting true lives of many people wanting and needing help in some way to solve tragic events in their lives. From Murder to Missing, dedication to truth and family is everywhere at this cathartic conference and is evident in every conversation making a rich harvest for film and television producers as many stories are told in documentaries, docuseries, or motion pictures.
The passion driven, fan following, human interest foot traffic is plentiful as seats fill for each speaker, while many stood in lines like you would for a ride at an amusement park to meet celebrity host figures like crime-solving celebrity Nancy Grace, an icon in the Crime reporting industry.
The Expo was beautifully laid out, extremely interesting and educating, and the support of all the families getting the word out for family, friends and loved ones, because most of these Podcaster's have had a traumatic loss or experience and set their mission to tell that story and help share other stories. The hope is to reach enough people that might lead to answers.
Incredible to learn how so many turned their experiences and years of knowledge into podcasts such as GOLD SHIELDS Podcast. Bringing other professionals in law into the mix makes for a unique audience base to hear more about various investigations.
Then others such as Dan from True Blue Crime Podcast whose life changed dramatically after having COVID so bad that it did damage to where he left the force and kept his passion going that is conducive to his health and still engaged with law.
The CrimeCon Cases
A room of unanswered questions, just as the squeaky wheel gets the oil, we can never lose hope and continue to bring up details, locations, times, findings where listeners can add to, offer insight, or bring into their own personal missions.
Then two true crime enthusiasts came together and formed Housewives Of True Crime. Both with knowledge from following stories and shows, Tabitha's true crime passion happened when a real media worthy true crime took place in her hometown Ventura, California. Tabitha found herself waiting in line for a seat in the courtroom of the Sherri Dally murder trial while friends her age found themselves at the beach.
This conference should really be attended by everyone in each city around the United States—a program should be incorporated into colleges to attend every area, all in the efforts, time, and energy --as we all would do—in support and education to feel the anguish of the unknown and in the hopes of a glimpse of answers.
Story after story that is heart wrenching, with producers that want to help and turn stories into something for all to watch and help.
CrimeCon truly flowed, where amazing speakers shared their experiences, their insights and feelings to the entire audience. This is truly a different level of Fanbase where it's more than human interest, it's actual humanity and human responsibility.
Talking about foot traffic, Sheryl "Mac" McCollum, Director of the Cold Case Investigative Research Institute and host of Zone 7, had the best shoes, mine of course came in second as the tallest heel walking the entire show!
© All right Reserved
---
---