Stray Gods: The Roleplaying Musical: role-playing video game gameplay
Cinema / News

- 13 June 2023
Stray Gods: The Roleplaying Musical is the upcoming video game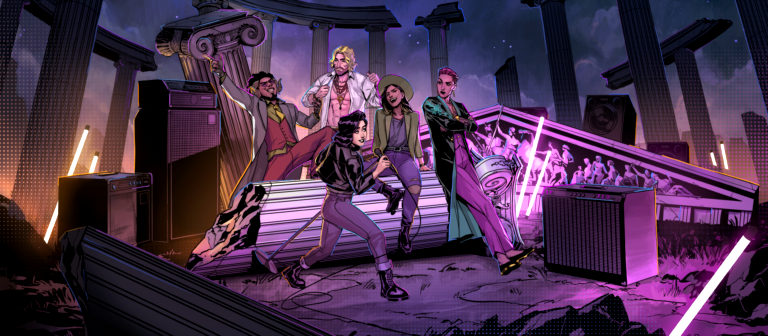 Stray Gods: The Roleplaying Musical is the upcoming role-playing video game. Players take on the role of Grace, a college student who is accused of killing the last muse, Calliope: the young woman must prove -- within seven days -- her innocence to a pantheon of Greek gods, consisting of Athena, Apollo, Persephone and Aphrodite. She must learn to wield her new musical powers to discover the truth behind the deity's death.
Stray Gods: The Roleplaying Musical, video game gameplay.
The player decides who Grace will ally with, who she can trust, and who might betray her. The gameplay is mainly inspired by the musical episode of Buffy - The Vampire Slayer "Once More, With Feeling," combining the features of musical theater with interactive storytelling. The narrative paths are branched, and the player's choice determines the story and tone of the spoken dialogues, melodies, lyrics and musical styles that Grace sings.
One can negotiate, interpret original musical numbers, with thousands of potential variations based on one's choices. One can form relationships with mortals and gods, and even have romantic relationships.
The music is by Grammy nominee Austin Wintory, and the voice cast includes Laura Bailey, Mary Elizabeth McGlynn, Troy Baker, Janina Gavankar, Khary Payton, Felicia Day, Allegra Clark, Ashley Johnson, Anthony Rapp. The video game is written by David Gaider, author of the Dragon Age series and Star Wars: Knights of the Old Republic. It uses hand-illustrated 2D visuals with a comic book-style aesthetic with stylized character designs. According to creator Austin Wintory, the "combinatorial potential of the songs" in Stray Gods is so great that it is virtually impossible for anyone to have the same playthrough twice.

Stray Gods: The Roleplaying Musical, the video game's release date.
It is the first project from developer Summerfall Studios based in Melbourne, Australia. Stray Gods: The Roleplaying Musical, the video game gameplay comes out on August 3, 2023 for Microsoft Windows, Nintendo Switch, PlayStation 4, Steam, PlayStation 5, Xbox One, and Xbox Series X/S.
© All right Reserved
---
---