Good Omens TV series, season two
With David Tennant e Michael Sheen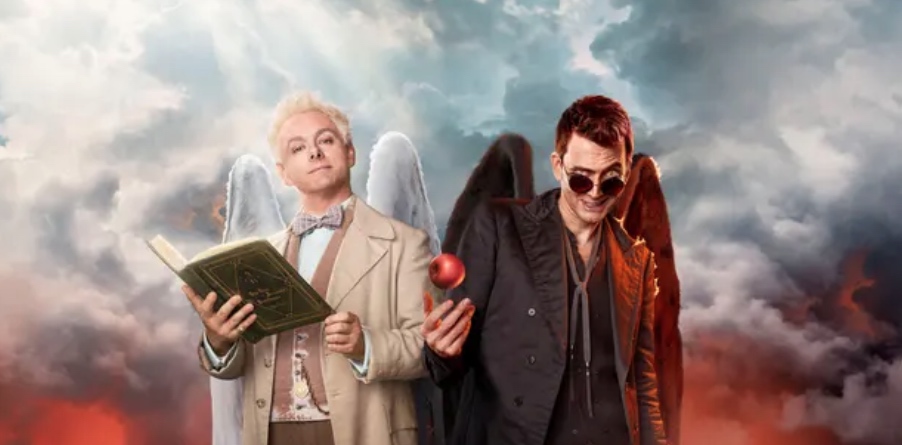 Good Omens, from the novel by Neil Gaiman and Terry Pratchett
Good Omens is based on the 1990s novel of the same name written by Neil Gaiman and Terry Pratchett. The series premiered in May 2019, released by Amazon Prime Video streaming. It chronicles the unlikely as well as amusing partnership of the demon Crowley (David Tennant) with the angel Aziraphale (Michael Sheen), who after living incognito among humans for several centuries can call themselves, within their differences, friends. They have grown accustomed to living among mortals and do not want to give that up, so when the apocalypse seems imminent they will join forces to prevent the end of humanity.
The cast of the Good Omens series.
In the lead role is David Tennant, a Scotsman and best known for playing the role of the tenth Doctor Who in the 2000s, he has also starred in successful series such as Broadchurch, The Crown, while on film he appeared in Harry Potter and the Goblet of Fire. He was joined by Michael Sheen, from Wales, who is known for playing the role of Tony Blair in The Queen and appearing in the TV series The Good Fight. In addition to said leads, the series included Jon Hamm, Frances McDormand, and Benedict Cumberbatch in the first season cast.
The release date of the second season
The second season of the series Good Omens will be released by Amazon Prime Video streaming on July 28, 2023.
© All right Reserved
---
---